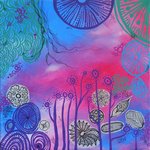 Tanis Alexis Laird
Raised and educated in creative environments, Tanis Alexis Laird is an inspirational artist, teacher and collaborator. Finding no interesting distinction between "art" and "craft," she embraces the term "artisan" -meaning a person who is vested in the creative realm. Tanis is improvisational when sitting down to create. Her work is a culmination of her interests, environmental values, thought processes, ideas and magical things, an exploration of hope and her dedication to the life-long creative journey. Tanis' work has been shown locally in Vancouver, Canada and has been sold to patrons throughout the U.S, Europe and Asia. see more at http://tanisalexis.wordpress.com Tanis Alexis Laird joined Society6 on November 16, 2013
More
Raised and educated in creative environments, Tanis Alexis Laird is an inspirational artist, teacher and collaborator. Finding no interesting distinction between "art" and "craft," she embraces the term "artisan" -meaning a person who is vested in the creative realm.
Tanis is improvisational when sitting down to create. Her work is a culmination of her interests, environmental values, thought processes, ideas and magical things, an exploration of hope and her dedication to the life-long creative journey. Tanis' work has been shown locally in Vancouver, Canada and has been sold to patrons throughout the U.S, Europe and Asia.
see more at http://tanisalexis.wordpress.com
Tanis Alexis Laird joined Society6 on November 16, 2013.
Tanis Alexis Laird's Store
60 results
Filter