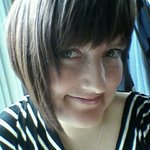 tarajandrews
Hiya! I am a Graphic Design student in Halifax, Nova Scotia, Canada and I am hoping to sell some of my artwork to cover tuition and art supply costs and also get feedback from the design community to improve my approach and create better work as I learn. Thanks for visiting and enjoy your browsing there is so much talent on this site. tarajandrews joined Society6 on February 23, 2013
More
Hiya!
I am a Graphic Design student in Halifax, Nova Scotia, Canada and I am hoping to sell some of my artwork to cover tuition and art supply costs and also get feedback from the design community to improve my approach and create better work as I learn.
Thanks for visiting and enjoy your browsing there is so much talent on this site.
tarajandrews joined Society6 on February 23, 2013.
Framed Prints by tarajandrews
2 results
Filter
Products

Framed Art Prints