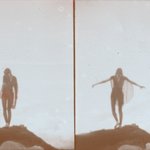 Tara Swenson
Hello! My name is Tara Swenson. I grew up in Olympia, Wahington and am currently living in Portland, Oregon. All my life I have wanted to pursue art as a career, but it wasn't until the recent birth of my first child that I have decided to make it a priority. My hope is that seeing me reach for my dream of working as an artist he will be inspired to reach for dreams of his own. I can't seem to sit still, so I'm constantly experimenting with different formats for self-expression - illustration, painting, photography, audio and video, all of which are beginning to be chronicled on my website: tara-swenson.tumblr.com. I'm constantly learning and growing, inspired by other artists I've come across online and those in my daily life. Other things that inspire me: astronomy, the natural world, mysticism, all genres of music, existentialism and mortality. I believe that we are given only one life, so we must do our best to make it beautiful. Tara Swenson joined Society6 on January 9, 2013
More
Hello! My name is Tara Swenson. I grew up in Olympia, Wahington and am currently living in Portland, Oregon.
All my life I have wanted to pursue art as a career, but it wasn't until the recent birth of my first child that I have decided to make it a priority. My hope is that seeing me reach for my dream of working as an artist he will be inspired to reach for dreams of his own.
I can't seem to sit still, so I'm constantly experimenting with different formats for self-expression - illustration, painting, photography, audio and video, all of which are beginning to be chronicled on my website: tara-swenson.tumblr.com.
I'm constantly learning and growing, inspired by other artists I've come across online and those in my daily life. Other things that inspire me: astronomy, the natural world, mysticism, all genres of music, existentialism and mortality. I believe that we are given only one life, so we must do our best to make it beautiful.
Tara Swenson joined Society6 on January 9, 2013.
Tara Swenson's Store
17 results
Filter