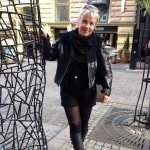 Taru Jäntti
Taru Jäntti (born 1961 in Helsinki) has been painting and drawing for most of her life. Her recent works are mostly aquarelles, a method that Taru finds the most appealing to her in its capability of capturing the lightness and spontainety of everyday world. In her works Taru seeks to capture the harmony and balance of light and color found in everyday views objects that surround us. Sometimes the subjects are treated naturalistically while at times they are simplified to near abstraction. This is equally evident in the series of rooftop views as well as in the still life paintings where objects are reduced into pure form and color. www.tarujantti.com instagram.com/tarujantti Taru Jäntti joined Society6 on August 27, 2016
More
Taru Jäntti (born 1961 in Helsinki) has been painting and drawing for most of her life. Her recent works are mostly aquarelles, a method that Taru finds the most appealing to her in its capability of capturing the lightness and spontainety of everyday world.
In her works Taru seeks to capture the harmony and balance of light and color found in everyday views objects that surround us. Sometimes the subjects are treated naturalistically while at times they are simplified to near abstraction. This is equally evident in the series of rooftop views as well as in the still life paintings where objects are reduced into pure form and color.
www.tarujantti.com
instagram.com/tarujantti
Taru Jäntti joined Society6 on August 27, 2016.