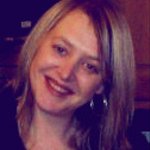 Rachel Burbee
My name is Rachel and I am originally from The United Kingdom and moved to The United States in 2007. I am based in New Hampshire where I live with my Husband, two adorable children and our lovable dog. Ours can be a crazy life, but a very simple life, I long for sunny days and I shy away from snow. We don't take ourselves to seriously in our house and we love to play Monopoly. You will often hear music filling the house with lots of dancing and giggling. Freshly cut grass, the smell of rain, sunny mornings,fluffy clouds,birds singing, drawing with a pencil, flowers on the table,camera in hand, God's Word and the shabby chic of life are just some of the things that inspire me Email: vintageskies1@gmail.com http://rachelburbee.com http://www.facebook.com/VintageSkies http://www.facebook.com/TheGoshShop http://pinterest.com/vintageskies/ Rachel Burbee joined Society6 on June 16, 2011
More
My name is Rachel and I am originally from The United Kingdom and moved to The United States in 2007. I am based in New Hampshire where I live with my Husband, two adorable children and our lovable dog. Ours can be a crazy life, but a very simple life, I long for sunny days and I shy away from snow. We don't take ourselves to seriously in our house and we love to play Monopoly. You will often hear music filling the house with lots of dancing and giggling.
Freshly cut grass, the smell of rain, sunny mornings,fluffy clouds,birds singing, drawing with a pencil, flowers on the table,camera in hand, God's Word and the shabby chic of life are just some of the things that inspire me
Email: vintageskies1@gmail.com http://rachelburbee.com http://www.facebook.com/VintageSkies http://www.facebook.com/TheGoshShop http://pinterest.com/vintageskies/
Rachel Burbee joined Society6 on June 16, 2011.