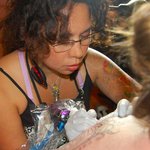 Tattoo Sandra
Welcome to my store, my name is Sandra and I am a tattoo artist in Southern California. I have a back ground in animation and love creating digital art on my Ipad. Not to many products up yet, but will be adding more designs in the days to come so check back to see whats new. Tattoo Sandra joined Society6 on July 29, 2012
More
Welcome to my store, my name is Sandra and I am a tattoo artist in Southern California. I have a back ground in animation and love creating digital art on my Ipad.
Not to many products up yet, but will be adding more designs in the days to come so check back to see whats new.
Tattoo Sandra joined Society6 on July 29, 2012.