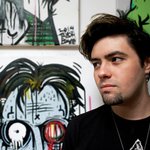 Taylor Bowen
The themes in Taylor's artwork center around the human condition, from the mental and emotional issues that plague us to the addictions we fall victim to. Taylor is a born and bred New Yorker. He began illustrating and painting at a young age. He enjoys experimenting with different mediums and techniques. Taylor Bowen joined Society6 on February 10, 2015
More
The themes in Taylor's artwork center around the human condition, from the mental and emotional issues that plague us to the addictions we fall victim to.
Taylor is a born and bred New Yorker. He began illustrating and painting at a young age. He enjoys experimenting with different mediums and techniques.
Taylor Bowen joined Society6 on February 10, 2015.
Taylor Bowen 's Store
0 result
Filter