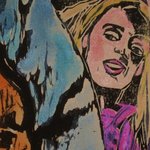 teaandinkstudio
I'm a wife, mama and almost full-time studio artist! I do a lot of woodblock printmaking, ink drawings with watercolor, acrylic painting and fiber arts. Favorite subject matter include... figures and faces, people engaging in everyday chores and life... nature, architecture and anything to do with the sea.
I have a BA degree in Drawing, Painting and Printmaking from Portland State University, 2001. In a former life... I was a medical social worker.
I'm excited to be offering for the first time - prints of my paintings, art quilts and other suprises past and present here are society6!
Find me at etsy: www.teaandinkstudio.etsy.com find me on facebook as 'teaandinkstudio' where I announce new stuff and occasional sales and special offers.
Thanks so much for looking.
Read more
teaandinkstudio's Store
Filter
c9784c39-0556-42eb-8044-9aabef060f69

Popular

17a0ba04-e96b-477a-9330-fdd54b8a3583

All