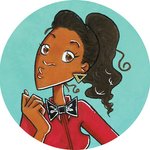 TeeNa Stone
Hello guys ! I'm TeeNa Stone, a freelance and self taught artist based in Paris. I am passionate about drawing since my childhood. I am now specialised in comics and Pop Culture universes. Thank you for stopping by and welcome on my Society6 shop :) Follow my work : - website : http://teenastone.fr/ - Facebook : https://www.facebook.com/TeeNaStoneIllustratrice/ - Instagram : https://www.instagram.com/teena_stone/ TeeNa Stone joined Society6 on February 4, 2015
More
Hello guys ! I'm TeeNa Stone, a freelance and self taught artist based in Paris. I am passionate about drawing since my childhood. I am now specialised in comics and Pop Culture universes.
Thank you for stopping by and welcome on my Society6 shop :)
Follow my work :
website : http://teenastone.fr/
Facebook : https://www.facebook.com/TeeNaStoneIllustratrice/
Instagram : https://www.instagram.com/teena_stone/
TeeNa Stone joined Society6 on February 4, 2015.