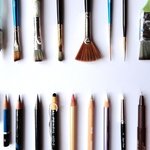 Tempy Osborne
I grew up on the Beara Peninsula in West Cork, Ireland in a family of artists. At the age of five my parents moved us to the small Inuit community of Grise Fiord in the Canadian Arctic where we spent a year. Since then I have been back to visit the Arctic many times and ideas of travel, exploration, adventure have been highly influential in my life and work. I studied Fine Art Painting in the National College of Art and Design in Dublin, Ireland and graduated in 2006. I'm currently living and working in Belgium. My paintings have been selected for exhibitions in galleries all over Ireland including establishments such as The Central Bank and Financial Services Authority of Ireland and The Royal Hibernian Academy Gallery. I have also exhibited in other European countries and Canada. I hope you find something you like here, please feel free to contact me at: contactpaintbox@gmail.com or visit my website: www.tempyosborne.com for more information. Tempy Osborne joined Society6 on November 16, 2014
More
I grew up on the Beara Peninsula in West Cork, Ireland in a family of artists. At the age of five my parents moved us to the small Inuit community of Grise Fiord in the Canadian Arctic where we spent a year. Since then I have been back to visit the Arctic many times and ideas of travel, exploration, adventure have been highly influential in my life and work. I studied Fine Art Painting in the National College of Art and Design in Dublin, Ireland and graduated in 2006. I'm currently living and working in Belgium.
My paintings have been selected for exhibitions in galleries all over Ireland including establishments such as The Central Bank and Financial Services Authority of Ireland and The Royal Hibernian Academy Gallery. I have also exhibited in other European countries and Canada.
I hope you find something you like here, please feel free to contact me at: contactpaintbox@gmail.com or visit my website: www.tempyosborne.com for more information.
Tempy Osborne joined Society6 on November 16, 2014.
Tempy Osborne's Store
16 results
Filter