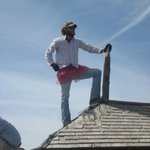 Terran Marks
He believes shaving is for people who like razor burn. He once cut down 14,000 trees to save some birds. His resume reads like a Choose Your Own Adventure with all the boring filler ripped out. He spends time wondering where Paul Bunyan did his "business". If he were a character in a Hemingway novel, he wouldn't be. The extent of his knowledge of World of Warcraft is that he actually is a blacksmith. If he could give one piece of advice to everyone, it would be: Do it better. It's a stiff competition for the title of Most Interesting Man In the World, but you gotta have goals. Terran Marks joined Society6 on March 7, 2012
More
He believes shaving is for people who like razor burn. He once cut down 14,000 trees to save some birds. His resume reads like a Choose Your Own Adventure with all the boring filler ripped out. He spends time wondering where Paul Bunyan did his "business". If he were a character in a Hemingway novel, he wouldn't be. The extent of his knowledge of World of Warcraft is that he actually is a blacksmith. If he could give one piece of advice to everyone, it would be: Do it better.
It's a stiff competition for the title of Most Interesting Man In the World, but you gotta have goals.
Terran Marks joined Society6 on March 7, 2012.