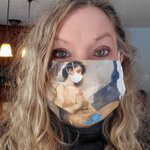 Terrence Fine
Terrence Fine Bio
From her seventh-floor studio, Terrence Fine enjoys views of the Hudson River and Palisades and finds great peace there. She sets to work creating art in a room filled with light and warmth; works of imagination and beauty, often mischievous and whimsical, sometimes abstract and difficult.
Terrence's journey began in California in the 80's studying at the Academy of Art College (San Francisco) and Otis/Parsons School of Design (Los Angeles). She continues to expand her interests as a Lifetime Member of Art Students League in New York, as well as an active member of RiverArts in Westchester County and the Edward Hopper House Center. Over the years, her work including paintings, mixed media, dimensional works and collage have been shown in museums and galleries on both coasts including the Los Angeles County Museum of Art, the Trinity Museum @ Trinity Church Wall Street and Pen & Brush Galleries in New York. Terrence is especially proud that her Wildlife Art series caught the attention of the Countess Mara Company which licensed her work for their designer scarves. While living in Los Angeles Terrence was Art Director for an independent film by filmmaker Donna Wheeler, Death of a Saleswoman. She also provided Art Direction for the 6th Annual Jog & Dog Walk, a fundraiser for Guide Dogs of America, in Brentwood, CA. In addition to this she was an assistant to the Senior Graphics Editor of Entertainment Tonight, working at ART/FX, which created motion graphic openings and titles for television shows. Most recent exhibitions: two works from Décollage series were featured in the 7th Annual Small Works at the Office of Manhattan Borough President Gale A. Brewer up until January 27, 2016. Ms. Fine's work was also recently shown at the Annual Artist Members' Exhibition at the Edward Hopper House Art Center in Nyack, NY. And as a result of another juried show, 7 works from this same series were featured at Piermont Flywheel Gallery in Piermont, NY.
Artist's Statement
The Pre Raphaelites have always been a source of inspiration and admiration to me. I have the utmost respect for those artists whose mission was to bring beauty and spiritualism to a 19th Century Industrial Age England. My work comes from a place of marrying wit with classical as well as mystical elements to create a new narrative, usually satirical in nature. This series could best be described as Post-Apocalyptic Pre-Raphaelite.
All that being said, creating this Décollage series for me has been a most gratifying experience. I feel it is a journey of self discovery, one full of surprises, never knowing where each narrative will lead me… with a nod to the past... and in some cases a wink and a bit of whimsy.
Terrence Fine 2016* *For complete résumé, please visit www.terrencefine.com
Read more
Terrence Fine's Store
Filter