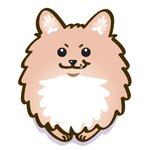 Tetchan
Pomeranian BALL BALL says: "Care for animals! I wish that people everywhere will love every species!"
I love animals so much. Dogs, cats and other pets always welcome people to play with them, and they stay very innocent. Every time when I see pets, I just feel very happy.
Yet many people totally miss out and fail to understand exactly how much enjoyment they can derive from mingling with animals. For my part, I hope that more people will love creatures and try to protect them. So I draw animal-related illustrations.
Read more