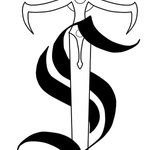 Tessa Storm
On the verge of turning 20, my early childhood years were spent travelling the country with my family. From out the car window I was fortunate to see most of America and behold its beautiful scenery and animals, and with my fathers artistic assistance and my mothers encouraging spirit, these sights turned into inspiration that has carried into my work today. My work primarily consists of fantasy creatures both dark and eerie or light and endearing, as well as whimsical landscapes, and are almost always completed in traditional medias such as gouache, watercolor, and ink. https://www.facebook.com/tessastormartofficial http://tessastorm.tumblr.com/ Tessa Storm joined Society6 on September 11, 2014
More
On the verge of turning 20, my early childhood years were spent travelling the country with my family. From out the car window I was fortunate to see most of America and behold its beautiful scenery and animals, and with my fathers artistic assistance and my mothers encouraging spirit, these sights turned into inspiration that has carried into my work today. My work primarily consists of fantasy creatures both dark and eerie or light and endearing, as well as whimsical landscapes, and are almost always completed in traditional medias such as gouache, watercolor, and ink.
https://www.facebook.com/tessastormartofficial http://tessastorm.tumblr.com/
Tessa Storm joined Society6 on September 11, 2014.