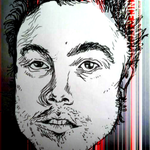 tetr4
Series 1 canvas collection was created during an artist-in-residency period of 2.5 years at 18th St Arts Center in Los Angeles. Series 1 canvas collection are all originally acrylic paintings done with inspiration based on understanding subconsciousness. Own a piece of history! To check out more info here's my site: tetr4.org To see more about 18th St Arts Center and my involvement: http://18thstreet.org/artists/karl-doerrer/ tetr4 joined Society6 on August 18, 2016
More
Series 1 canvas collection was created during an artist-in-residency period of 2.5 years at 18th St Arts Center in Los Angeles. Series 1 canvas collection are all originally acrylic paintings done with inspiration based on understanding subconsciousness. Own a piece of history!
To check out more info here's my site: tetr4.org To see more about 18th St Arts Center and my involvement: http://18thstreet.org/artists/karl-doerrer/
tetr4 joined Society6 on August 18, 2016.