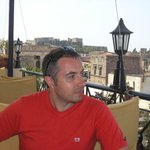 Texnotropio
About Texnotropio
Texnotropio comes from merging the Greek words ΤΕΧΝΗ (art) and ΤΡΟΠΟΣ (style), thus meaning the art style or genre.
I would categorize myself as a hobbyist artist, since my primary occupation is in the IT sector.
From my early years I loved to sketch and paint and my abilities were evolved through private lessons.
My motto could be summarized in the following: "Art is in you; just let it flow."
Texnotropio joined Society6 on March 23, 2012.