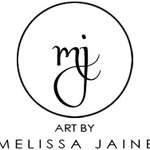 My name is Melissa Jaine, and I reside on the mid south coast of Australia. I'm a blogger, iphoneographer, illustrator, dog mamma, auntie and I'll eat just about anything with lemon in it. The Twenty5 Project began in 2011 as a way for me to share my creativity and give back to what I'm grateful for ~ people defending our way of living. It started with $1 instant art prints (downloadable designs) with 25 cents in every dollar donated across 25 charities that support our troops, in the USA, Britain and Australia. The orginal shop still houses $1 art - 3 new designs each month. You can check that out here: http://thetwenty5project.bigcartel.com In THIS shop (where you are now) you will find all the artwork that has been part of the Twenty5 Project, past and present. Order the size you want, on the medium you want, for your wall, your iPhone or your body. Awesome! 25% of my profit from this shop will be added to the Twenty5 Project charity pool. You can read more about the Twenty5 Project here: http://theTwenty5Project.com And be sure to visit me at my blog - lots of stuff happening over there :) http://melissajaine.com/blog Thank you! mj.x joined Society6 on November 16, 2011
More
My name is Melissa Jaine, and I reside on the mid south coast of Australia.
I'm a blogger, iphoneographer, illustrator, dog mamma, auntie and I'll eat just about anything with lemon in it.
The Twenty5 Project began in 2011 as a way for me to share my creativity and give back to what I'm grateful for ~ people defending our way of living. It started with $1 instant art prints (downloadable designs) with 25 cents in every dollar donated across 25 charities that support our troops, in the USA, Britain and Australia.
The orginal shop still houses $1 art - 3 new designs each month. You can check that out here:
http://thetwenty5project.bigcartel.com
In THIS shop (where you are now) you will find all the artwork that has been part of the Twenty5 Project, past and present.
Order the size you want, on the medium you want, for your wall, your iPhone or your body. Awesome!
25% of my profit from this shop will be added to the Twenty5 Project charity pool.
You can read more about the Twenty5 Project here:
http://theTwenty5Project.com
And be sure to visit me at my blog - lots of stuff happening over there :)
http://melissajaine.com/blog
Thank you!
mj.x
joined Society6 on November 16, 2011.