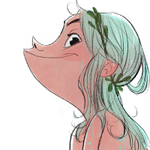 Theanimatedlife
Hey there! Im a self-taught freelance artist and stay at home mom. Being a mom of three girls is very inspirational to me... there is never a dull moment! My passion is character design, however I dabble in concept art, and illustration. Thanks for stopping by!
Read more
Theanimatedlife's Store
Filter
You are currently on society6.com.