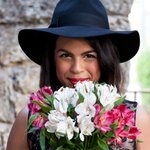 Gissi Jimenez - The Architect of Style
Gissi Jimenez is the head editor & fashion illustrator for The Architect of Style. Gissi's has collaborated and made illustrations for beauty and fashion brands COVERGIRL, Bloomingdale's, SUPERGA, MIA Shoes & Maite makeup. She is originally from Dominican Republic, but currently blogs in Miami, Florida.
Since a little girl she showed a high interest in art and was tutored in fine art painting by a few renowned artists form the Caribbean including Marianela Jimenez & Carolina Cepeda. She was trained in visual arts at the Bellas Artes National Institute and the Altos de Chavon Design School (affiliated with Parsons The New School for Design). She also has a background in Architecture and currently works as a project coordinator in Miami, Florida. Her remarkable training has allowed her to develop a unique minimalist style having a fine eye for all things design and properly shown in all her artwork & fashion illustrations.
Read more
Pillows by Gissi Jimenez The Architect of Style
Filter
Pillows by Gissi Jimenez The Architect of Style