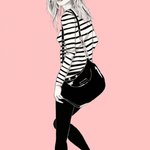 The Art Hutch
I'm a girl. I'm married. I draw. I write songs. I sing. I have a cat. I'm obsessed with cats. I'm in a band. I enjoy crafts. I live in the Yorkshire Wolds in the UK. My cat is asleep on my hand as I type this. It's hard to type with a cat asleep on my hand. If you'd like to contact me regarding illustration work then please do at this address: thearthutch@hotmail.com I am always happy to hear about possible new projects. I have a blog where you can see more of my work >>> http://www.thearthutch.blogspot.co.uk The Art Hutch joined Society6 on September 14, 2013
More
I'm a girl. I'm married. I draw. I write songs. I sing. I have a cat. I'm obsessed with cats. I'm in a band. I enjoy crafts. I live in the Yorkshire Wolds in the UK. My cat is asleep on my hand as I type this. It's hard to type with a cat asleep on my hand.
If you'd like to contact me regarding illustration work then please do at this address: thearthutch@hotmail.com
I am always happy to hear about possible new projects.
I have a blog where you can see more of my work >>> http://www.thearthutch.blogspot.co.uk
The Art Hutch joined Society6 on September 14, 2013.
The Art Hutch's Store
93 results
Filter