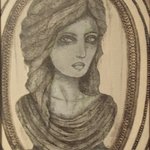 The Art of Natalie Dean
I am an artist based in Sydney Australia. I paint with acrylics and fine pens to produce a high level of detail. My paintings are visual narratives that are both personal and imaginative. I am inspired by Victorian literature, illustration and fairy tales, architecture from the Edwardian, Gothic and Art Nouveau eras, haunted sites/ghost stories, art house films, the female psyche, nature, vintage oddities and abandoned houses that hold secret histories. I am especially interested in mystery, and how within certain places mysterious energies reside. These energies may be of those who once lived there, they hold a secret story, something that is not always so easy to see at first glance. I see the paintings as psychological representations of mystery and imagination and states of being. I hope my art weaves a spell for you.... You can discover and follow more of my work; Website: http://www.nataliedeanartist.com/ Blog: http://herghostsarehere.blogspot.com/ Facebook: www.facebook.com/The-Art-of-Natalie-Dean/ Twitter: https://twitter.com/HerGhosts Global Art Space: http://globalartspace.org/2013/08/03/natalie-dean/ The Art of Natalie Dean joined Society6 on October 29, 2014
More
I am an artist based in Sydney Australia. I paint with acrylics and fine pens to produce a high level of detail. My paintings are visual narratives that are both personal and imaginative. I am inspired by Victorian literature, illustration and fairy tales, architecture from the Edwardian, Gothic and Art Nouveau eras, haunted sites/ghost stories, art house films, the female psyche, nature, vintage oddities and abandoned houses that hold secret histories.
I am especially interested in mystery, and how within certain places mysterious energies reside. These energies may be of those who once lived there, they hold a secret story, something that is not always so easy to see at first glance. I see the paintings as psychological representations of mystery and imagination and states of being. I hope my art weaves a spell for you....
You can discover and follow more of my work;
Website: http://www.nataliedeanartist.com/ Blog: http://herghostsarehere.blogspot.com/ Facebook: www.facebook.com/The-Art-of-Natalie-Dean/ Twitter: https://twitter.com/HerGhosts Global Art Space: http://globalartspace.org/2013/08/03/natalie-dean/
The Art of Natalie Dean joined Society6 on October 29, 2014.
The Art of Natalie Dean's Store
57 results
Filter