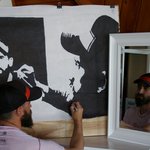 The Art of Rido
Intricate and encrypted black and white drawings. The more you look, the more you see. Usually I draw the "main theme" which represents the biggest drawing of the canvas. Then I fill the blank spaces with lots of "fillers" of all sizes. I like to encrypt coded messages through the canvas which makes a great conversation starter for guests. www.theartofrido.com https://www.facebook.com/theartofrido The Art of Rido joined Society6 on February 26, 2014
More
Intricate and encrypted black and white drawings. The more you look, the more you see.
Usually I draw the "main theme" which represents the biggest drawing of the canvas. Then I fill the blank spaces with lots of "fillers" of all sizes.
I like to encrypt coded messages through the canvas which makes a great conversation starter for guests.
www.theartofrido.com
https://www.facebook.com/theartofrido
The Art of Rido joined Society6 on February 26, 2014.