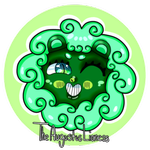 The Augustus Lioness
Call me Tea or A.L. I'm an art student studying to attain my AS degree in Animation & Graphic Design. I have several online shops and I do commissions. My art is geared towards representing POC (people of color) in various narratives that are not exclusionary in either gender, sexuality, religion, disability, or weight. The Augustus Lioness joined Society6 on October 10, 2015
More
Call me Tea or A.L.
I'm an art student studying to attain my AS degree in Animation & Graphic Design. I have several online shops and I do commissions.
My art is geared towards representing POC (people of color) in various narratives that are not exclusionary in either gender, sexuality, religion, disability, or weight.
The Augustus Lioness joined Society6 on October 10, 2015.