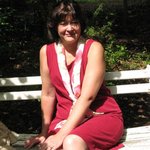 Theresa Landow
My name is Theresa Landow. Having been born into a very artistic family, with a father who did woodworking and basket weaving, and a mother who is a wonderful seamstress, it was pretty much a natural thing for me to become an artist in my own right. Of course, while both of my parents are very focused on their particular art forms, I'm a little more scattered. I started making beaded jewelry in 1999, and fell in love with it. What started as a hobby, soon became something of an obsession with me. I took a couple of basic classes from a local bead store, and soon was known as "that lady who is always working with beads" at my regular job at the local community college. Friends of the family noticed, and were soon giving me all sort of broken necklaces they didn't want any more, and bags of beads that were just lying around their homes. The next thing I knew, I had more jewelry than I could wear in a lifetime. After taking one class in painting silk, I found a new passion. I love the fact that each piece of silk I paint is a true original, unique, and beautiful in its own way. I can color outside the lines, or with no lines at all, and create a beautiful work of wearable art. I'm looking forward to many years of not only creating works of art myself, but also starting to teach this fabulous art form. Also, I have always loved sketching, drawing, sculpting, collage work... Well, the list is pretty endless. It has taken me over 30 years to gain back some of the youthful confidence I lost as a child, and am still working on it by exploring any new art medium that comes my way. Now I will be adding even more of my own artwork, and possibly some by my kids, all of which are illustrations from books I am writing. Theresa Landow joined Society6 on April 22, 2013
More
My name is Theresa Landow. Having been born into a very artistic family, with a father who did woodworking and basket weaving, and a mother who is a wonderful seamstress, it was pretty much a natural thing for me to become an artist in my own right. Of course, while both of my parents are very focused on their particular art forms, I'm a little more scattered.
I started making beaded jewelry in 1999, and fell in love with it. What started as a hobby, soon became something of an obsession with me. I took a couple of basic classes from a local bead store, and soon was known as "that lady who is always working with beads" at my regular job at the local community college. Friends of the family noticed, and were soon giving me all sort of broken necklaces they didn't want any more, and bags of beads that were just lying around their homes. The next thing I knew, I had more jewelry than I could wear in a lifetime. After taking one class in painting silk, I found a new passion. I love the fact that each piece of silk I paint is a true original, unique, and beautiful in its own way. I can color outside the lines, or with no lines at all, and create a beautiful work of wearable art. I'm looking forward to many years of not only creating works of art myself, but also starting to teach this fabulous art form.
Also, I have always loved sketching, drawing, sculpting, collage work... Well, the list is pretty endless. It has taken me over 30 years to gain back some of the youthful confidence I lost as a child, and am still working on it by exploring any new art medium that comes my way.
Now I will be adding even more of my own artwork, and possibly some by my kids, all of which are illustrations from books I am writing.
Theresa Landow joined Society6 on April 22, 2013.