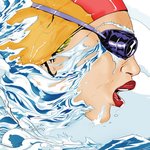 The Blue Griffin
The Blue Griffin is a high-end design studio located in Brooklyn New York, that specializes in illustration, advertising and marketing. As an exploration, studio founder, Jerome Walford has set apart studio time to create art not originated by marketing campaigns. His illustrative style is inspired by traditional Japanese printmaking, as well as modern pop and comic art. Learn more about The Blue Griffin design studio at www.thebluegriffin.com The Blue Griffin joined Society6 on August 25, 2011
More
The Blue Griffin is a high-end design studio located in Brooklyn New York, that specializes in illustration, advertising and marketing. As an exploration, studio founder, Jerome Walford has set apart studio time to create art not originated by marketing campaigns. His illustrative style is inspired by traditional Japanese printmaking, as well as modern pop and comic art.
Learn more about The Blue Griffin design studio at www.thebluegriffin.com
The Blue Griffin joined Society6 on August 25, 2011.
Hoodies by The Blue Griffin
0 result
Filter