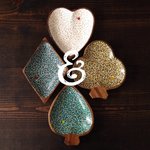 the bocket store
I spend my days creating a modern new look and life to vintage pieces. But on here we are celebrating the dots on their own!
You can find all my original hand-painted dots on Etsy : thebocketstore.etsy.com Find out all things dot related here : thebocketstore.com
Read more
the bocket store's Store
Filter
You are currently on society6.com.