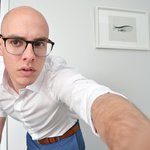 The Color & Shape
I am a Mechanical Engineer with a passion for functional and stylish interior design. I like to think the uncommon juxtaposition of my math & science education/career and my strong interest in creative arts benefits and balances both aspects of my life. My wonderful wife and I had known each other for a over a decade and were even married before we ever knew how similar our architectural and interior design aesthetics were. We obviously already had many other things in common (at least enough to decide to get married!) like a love for music, books, and an obsession with pugs, but it wasn't until we bought our first empty, builder-beige-walled house that the architectural and interior design bug bit us. It began out of necessity to make our first house feel like our home and has grown to be what we enjoy doing the most together. Whether it's Saturday morning thrift shop runs, browsing pinterest, or planning our next home project, the design world has become something both of us can escape to together, in between our normally hectic working lives…at least until our spoiled pug Arya interrupts the daydreaming and politely reminds us that our entire world should, and often does, revolve around her. With the amount of great material already online these days, it is hard create a blog that truly offers a fresh perspective. My goal with our blog was to embrace the fact that there are already so many good sources and provide organized snapshots of the various designers, blogs, websites, and magazines that inspire us and hope that it inspires you too. In addition to celebrating other peoples' work, we provide some original content such as our thrifting adventures and cataloging the process of decorating and designing each room in our first house. After running the blog for almost a year, we decided to start posting some of our DIY art projects to Society 6 on the off-chance that someone else as kooky as us may be interested in what we create. We hope you enjoy what we post, whether you choose to purchase or not. The Color & Shape joined Society6 on December 29, 2013
More
I am a Mechanical Engineer with a passion for functional and stylish interior design. I like to think the uncommon juxtaposition of my math & science education/career and my strong interest in creative arts benefits and balances both aspects of my life. My wonderful wife and I had known each other for a over a decade and were even married before we ever knew how similar our architectural and interior design aesthetics were. We obviously already had many other things in common (at least enough to decide to get married!) like a love for music, books, and an obsession with pugs, but it wasn't until we bought our first empty, builder-beige-walled house that the architectural and interior design bug bit us.
It began out of necessity to make our first house feel like our home and has grown to be what we enjoy doing the most together. Whether it's Saturday morning thrift shop runs, browsing pinterest, or planning our next home project, the design world has become something both of us can escape to together, in between our normally hectic working lives…at least until our spoiled pug Arya interrupts the daydreaming and politely reminds us that our entire world should, and often does, revolve around her.
With the amount of great material already online these days, it is hard create a blog that truly offers a fresh perspective. My goal with our blog was to embrace the fact that there are already so many good sources and provide organized snapshots of the various designers, blogs, websites, and magazines that inspire us and hope that it inspires you too. In addition to celebrating other peoples' work, we provide some original content such as our thrifting adventures and cataloging the process of decorating and designing each room in our first house.
After running the blog for almost a year, we decided to start posting some of our DIY art projects to Society 6 on the off-chance that someone else as kooky as us may be interested in what we create. We hope you enjoy what we post, whether you choose to purchase or not.
The Color & Shape joined Society6 on December 29, 2013.
The Color & Shape's Store
80 results
Filter