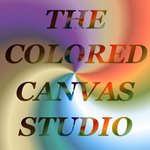 The Colored Canvas Studio
We are Jay Van Schelt and Katherine Porter. We have been artists for many years working in many different mediums. Oils, acrylics, glass, and mixed media. Recently we have decided to focus our art on digital media. Our idea is that all art is an expression of creativity and that we all are creatively expressive and that creativity should be release in all its forms to enhance our world. We believe that all of life is a COLORED CANVAS. 10 % of all income from the sales of our art works is donated to charities that promote art as a form of healing. We wish you an creative day. The Colored Canvas Studio joined Society6 on October 14, 2012
More
We are Jay Van Schelt and Katherine Porter.
We have been artists for many years working in many different mediums. Oils, acrylics, glass, and mixed media.
Recently we have decided to focus our art on digital media.
Our idea is that all art is an expression of creativity and that we all are creatively expressive and that creativity should be release in all its forms to enhance our world.
We believe that all of life is a COLORED CANVAS.
10 % of all income from the sales of our art works is donated to charities that promote art as a form of healing.
We wish you an creative day.
The Colored Canvas Studio joined Society6 on October 14, 2012.
The Colored Canvas Studio's Store
79 results
Filter