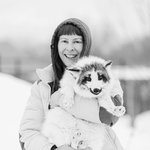 Stephanie Baker - The Dancing Wind
Once upon a time, I worked in New York City while living in crowded, expensive, fast-paced New Jersey. I left it all behind and moved to the mountains of Idaho to hike, camp, backpack, snowshoe & ski. I am now a full-time artist living a simple life. Website & blog: http://www.thedancingwind.com Instagram: http://instagram.com/thedancingwind Twitter: https://twitter.com/thedancingwind Pinterest: https://www.pinterest.com/thedancingwind Stephanie Baker - The Dancing Wind joined Society6 on July 24, 2012
More
Once upon a time, I worked in New York City while living in crowded, expensive, fast-paced New Jersey. I left it all behind and moved to the mountains of Idaho to hike, camp, backpack, snowshoe & ski. I am now a full-time artist living a simple life.
Website & blog: http://www.thedancingwind.com Instagram: http://instagram.com/thedancingwind Twitter: https://twitter.com/thedancingwind Pinterest: https://www.pinterest.com/thedancingwind
Stephanie Baker - The Dancing Wind joined Society6 on July 24, 2012.
Framed Prints by Stephanie Baker - The Dancing Wind
69 results
Filter