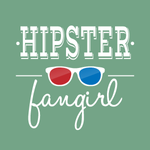 HipsterFangirl
Hi! I'm Steph, a graphic designer based in Utah. Knowing that I am truly awesome should be enough for you – but in case it isn't, I offer the following: I own too many shoes and make good use of my sneakers. I am hopelessly in love with Volkswagens and American Muscle. I'm a lover of all music, lifter of weights, terrible racquetball player, and not bad with a revolver. I love so many geeky things. I love being clever. I love geeky cleverness. HipsterFangirl joined Society6 on July 1, 2014
More
Hi! I'm Steph, a graphic designer based in Utah. Knowing that I am truly awesome should be enough for you – but in case it isn't, I offer the following:
I own too many shoes and make good use of my sneakers. I am hopelessly in love with Volkswagens and American Muscle. I'm a lover of all music, lifter of weights, terrible racquetball player, and not bad with a revolver. I love so many geeky things. I love being clever. I love geeky cleverness.
HipsterFangirl joined Society6 on July 1, 2014.