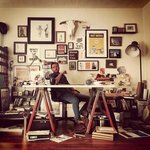 The Exiled Elite
Born in 1982 on the Island of Guernsey off the coast of France, Warren studied for his BFA at the University of The West of England, where he graduated with Honors, before undertaking his MFA at OTIS college of Art and Design in Los Angeles. His art practice explores methods of representation stemming from American popular culture, which he masterfully expresses through drawing, sculpture and performative strategies. His artistic perspective on America is unique, enhanced through living in the environment of his investigation and production. Warren recycles Hollywood's iconography in the form of movie posters, by creating a series of drawings in 3B pencil which reflect the essence of chosen films selected for their relevance in pop culture. The design and composition of the posters are influenced by the films characters and themes, and draw inspiration from the movies color palette and imagery. Each poster dissects the films narrative and chooses a singular image, which frames the film in a fresh way depicting its spirit and cult status. The Exiled Elite joined Society6 on October 26, 2012
More
Born in 1982 on the Island of Guernsey off the coast of France, Warren studied for his BFA at the University of The West of England, where he graduated with Honors, before undertaking his MFA at OTIS college of Art and Design in Los Angeles.
His art practice explores methods of representation stemming from American popular culture, which he masterfully expresses through drawing, sculpture and performative strategies. His artistic perspective on America is unique, enhanced through living in the environment of his investigation and production.
Warren recycles Hollywood's iconography in the form of movie posters, by creating a series of drawings in 3B pencil which reflect the essence of chosen films selected for their relevance in pop culture. The design and composition of the posters are influenced by the films characters and themes, and draw inspiration from the movies color palette and imagery. Each poster dissects the films narrative and chooses a singular image, which frames the film in a fresh way depicting its spirit and cult status.
The Exiled Elite joined Society6 on October 26, 2012.
The Exiled Elite's Store
259 results
Filter