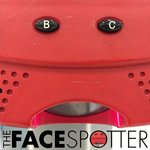 TheFaceSpotter
I'm more than just a funny face! :-)
My first sighting of pareidolia was on an x-ray camera pivot base in my dentist's office. That awareness led me to begin seeing and photographing faces everywhere. A quickly expanding photo collection then led to my sold-out printed 2016 calendar design. However, I'm more than just a funny face. My mission is to use my creativity to bring happiness to others.
I have worked in the creative design industry for quite some time, but have always had a passion for photography. With the emergence of online stock photography agencies, I took particular notice of iStockphoto®, which was formed in 2000. With encouragement from loved ones, I decided to embark on a new journey, and went through the photography training and approval processes. In February 2006 I earned my way into iStockphoto, which today is one of the world's leading stock photography agencies. At that point I began taking photography much more seriously, to include becoming a contributing photographer to Shutterstock®.
I hope that you will also enjoy looking over the rest of my work, and I encourage you to contact me with any comments. Please feel free to share your likes, dislikes, or suggestions for images that you'd like to see.
Thanks for visiting, Rene Ramos
Website: http://TheFaceSpotter.com Facebook: http://facebook.com/TheFaceSpotter Instagram: http://instagram.com/TheFaceSpotter Twitter: http://twitter.com/TheFaceSpotter
Stock Photography: http://ramosdesign.net/iStockphoto | http://ramosdesign.net/Shutterstock
LinkedIn: http://linkedin.com/in/ramosdesign
Read more