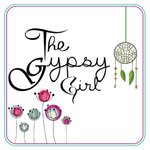 The Gypsy Girl
A little about myself, I am currently living in Cairo, Egypt and have been for nearly 11 years now, I recently decided to take a different approach to life as I found myself constantly getting sick, and very much mentally exhausted, with a couple of health scares under my belt already, things had to change. So now I am freelancing with all the skills I have and enjoying a myself more doing what I love :) Luckily I consider myself a little crazy, and I truly think that is a good thing, as the way the world is today to keep sane I think we all have to be a little insane :) Anyway I love to dabble in lots of glorious things, Art, Interior decorating (I love getting my hands dirty), Jewellery making (a family trade since 1909), Arts & Crafts of all sorts, Cooking (I am a qualified chef after all), Healthy eating, nutrition, and finally I love to analyse people, The Mind boggles me, fascinates me even… I am a single mum of an adorable 13-year-old boy, who loves to talk and explore life. I live in a house share with my boyfriend and 2 other flat mates, life is beautiful and ever-changing and I love it. So here you will find my doodles vamped up and up for you to display, welcome to my world... my mind... my madness... lol... The Gypsy Girl joined Society6 on October 1, 2015
More
A little about myself, I am currently living in Cairo, Egypt and have been for nearly 11 years now, I recently decided to take a different approach to life as I found myself constantly getting sick, and very much mentally exhausted, with a couple of health scares under my belt already, things had to change. So now I am freelancing with all the skills I have and enjoying a myself more doing what I love :)
Luckily I consider myself a little crazy, and I truly think that is a good thing, as the way the world is today to keep sane I think we all have to be a little insane :)
Anyway I love to dabble in lots of glorious things, Art, Interior decorating (I love getting my hands dirty), Jewellery making (a family trade since 1909), Arts & Crafts of all sorts, Cooking (I am a qualified chef after all), Healthy eating, nutrition, and finally I love to analyse people, The Mind boggles me, fascinates me even…
I am a single mum of an adorable 13-year-old boy, who loves to talk and explore life. I live in a house share with my boyfriend and 2 other flat mates, life is beautiful and ever-changing and I love it.
So here you will find my doodles vamped up and up for you to display, welcome to my world... my mind... my madness... lol...
The Gypsy Girl joined Society6 on October 1, 2015.