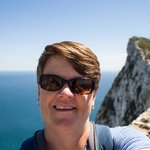 The_Hodge
Graphic Designer / Photographer / Videographer / Traveler / Adventurer I live and work in Spain where I create media for a non-profit company. Most profits from my sales on Society 6 will most likely go toward more travel. Which will result in more photos and so on. Check out some of my links for more art and photos. https://www.flickr.com/photos/spyfrauline/ http://instagram.com/the_hodge The_Hodge joined Society6 on October 10, 2014
More
Graphic Designer / Photographer / Videographer / Traveler / Adventurer
I live and work in Spain where I create media for a non-profit company. Most profits from my sales on Society 6 will most likely go toward more travel. Which will result in more photos and so on.
Check out some of my links for more art and photos. https://www.flickr.com/photos/spyfrauline/ http://instagram.com/the_hodge
The_Hodge joined Society6 on October 10, 2014.
The_Hodge's Store
97 results
Filter