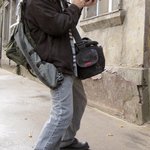 John D. Elliott
From travels throughout more than 55 nations, it's only natural that John Elliott pursues his photographic vision on a global scale. With a fine arts degree from Ohio University, minors in International Studies and Spanish, and advanced studies in Arabic at Harvard University and the Foreign Service Institute, Elliott was formerly a photojournalism teacher at The Art Institute of Atlanta and for more than 15 years the creative director for an Atlanta area advertising agency.
Elliott, whose influences include the medieval paintings of Hironomous Bosch and 20th century photography of Robert Frank and Henri Cartier-Bresson, began his photography career even as a teenager, as a freelance newspaper photographer and, during college semester breaks, as a magazine photojournalist.
Serving for five years as Field Director for AidWEST Humanitarian Missions, he led three teams to earthquake-stricken Haiti in 2010. He also was president of the Greater Atlanta Interfaith Alliance for five years in the '90s, which furthered his understanding of diverse cultures and philosophies. In both his creative output and volunteer work he strives for "the goal of universality, tolerance, compassion and human bond.
Although Elliott began working on individual images for "The Human Pulse" more than two decades ago, it wasn't until 2007 that the series actually debuted, at Atlanta's famed Callanwolde Gallery. The seminal and ongoing series encompasses images of human diversity and social issues from around the world.
"I seek dynamic movements of humans or groups, within the depth of physical space, Elliott says. In the images for this series there may be the pulse of youth and spontaneity; conversely there may be a sense of reflection or even conflict that embodies various social issues.
From exhausted laborers in an Indian blast furnace, to young Haitian earthquake victims, to joyful mud wrestlers in southern USA, he is adept at capturing the essence of milieu and mindset. The series is ongoing and has been exhibited internationally and at major art galleries in the USA.
The "Walls and Spaces" Series, also ongoing, began in the 1980s and captures highly idiosyncratic visual vistas, extracting character from carefully composed and often minimalist interactions. Elliott comments, "I find it to be both challenging and rewarding to draw inspiration from objects and background areas taken for granted by passers-by. Sometimes a metaphor springs to mind, or simply a reflection of conditions–of mine, time and the anonymous Others."
His images from a briefly worked series, Victims, have appeared in national magazines and in galleries in NYC, Ohio, Miami and Atlanta. And his scenic, commercial and portrait images have garnered international awards for more than 25 years.
A seminal international exposition of both The Human Pulse and Walls and Spaces was his 2013 solo show at Academia Brasileira de Letras, Rio de Janeiro, Brazil. Recent USA expositions have been at Turner Art Center, Callanwolde Gallery, Fay Gold Gallery, Atlanta Photography Group, and BackDrop Gallery.
Since 2010, Elliott has been a U.S. Foreign Service officer for the U.S. State Department, based out of Washington, D.C. and has served extensively in Latin America and the Middle East.
To see more: http://bit.ly/Walls-Spaces http://bit.ly/thp_book www.TheHumanPulse.com
Read more
John D. Elliott 's Store
Filter
de9a701b-3136-4c50-a0ba-b669ca345379

Popular

99e1b86d-cc1b-480c-b7b5-d93bdfa1e332

All