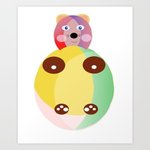 The Imagine Store
A creative wanderer who is roaming the UK, Melbourne-Australia, Singapore and Vietnam. I am into using modern & chic colours to compose imaginative artworks for kids. Who will come up with their own unique stories behind the arts. For more products, visit Redbubble show: https://www.redbubble.com/people/Elbas/shop?asc=u Zazzle: http://www.zazzle.com/theimaginestore The Imagine Store joined Society6 on December 16, 2016
More
A creative wanderer who is roaming the UK, Melbourne-Australia, Singapore and Vietnam. I am into using modern & chic colours to compose imaginative artworks for kids. Who will come up with their own unique stories behind the arts.
For more products, visit Redbubble show: https://www.redbubble.com/people/Elbas/shop?asc=u Zazzle: http://www.zazzle.com/theimaginestore
The Imagine Store joined Society6 on December 16, 2016.