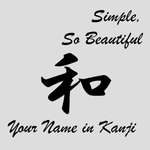 YourNameInKanji
One word, one meaning. Kanji,or Japanese word, is mysterious word. We offer you Kanji of your name. The pronunciation of your name is brought closer to Japanese one. Suitable for presents. Suitable for your own belongings. Tell your friends this "Kanji" goods. If you don't find your (or your friend's) name in this site, tell us your/your firend's name and we'll make new design soon. YourKanji.Design@gmail.com YourNameInKanji joined Society6 on March 13, 2016
More
One word, one meaning. Kanji,or Japanese word, is mysterious word.
We offer you Kanji of your name.
The pronunciation of your name is brought closer to Japanese one.
Suitable for presents. Suitable for your own belongings.
Tell your friends this "Kanji" goods. If you don't find your (or your friend's) name in this site, tell us your/your firend's name and we'll make new design soon.
YourKanji.Design@gmail.com
YourNameInKanji joined Society6 on March 13, 2016.