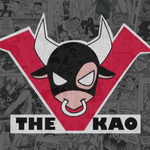 The Kao
Hello, I am The Kao. I'm a freelance illustrator and a fan of many shows which I love creating my own spin off of. You'll find some of those illustrations here where you can buy them as shirts and mugs. I'm also working on my own comic series called Mondo Mango which I'll soon be added here as well. My Websites: http://thekao.net http://thekao.tumblr.com/ The Kao joined Society6 on September 3, 2013
More
Hello, I am The Kao. I'm a freelance illustrator and a fan of many shows which I love creating my own spin off of. You'll find some of those illustrations here where you can buy them as shirts and mugs. I'm also working on my own comic series called Mondo Mango which I'll soon be added here as well.
My Websites: http://thekao.net http://thekao.tumblr.com/
The Kao joined Society6 on September 3, 2013.