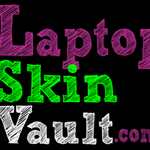 TheLaptopSkinVault
The Laptop Skin Vault is a unique brand of Laptop Skins which aims to provide the most extensive variety of categories and designs. Laptops are becoming a fifth limb and should reflect your unique style and character. Our aim is to make every laptop look fresh and unique with our "Off The Wall" designs. Headquartered in Mumbai, The Laptop Skin Vault is a brand owned by TwentyNine03 and was officially launched in November 2011 & went live at www.laptopskinvault.com in 2012. At The Laptop Skin Vault our focus is on: Delivering the best quality product at the most competitive rates Contributing to the society we exist in We are a socially responsible brand and part of all our proceeds go to charity. Our charity of choice is Operation Smile India (www.india.operationsmile.org) and we hope to work with them to create more smiles on the faces of children across India. With the hope of giving personality to each laptop we skin we bring you the highest quality designs & the best quality product so you never have worry about blending into the crowd. Join us on this exciting journey to make each laptop unique! --- The Laptop Skin Vault TheLaptopSkinVault joined Society6 on December 29, 2012
More
The Laptop Skin Vault is a unique brand of Laptop Skins which aims to provide the most extensive variety of categories and designs. Laptops are becoming a fifth limb and should reflect your unique style and character.
Our aim is to make every laptop look fresh and unique with our "Off The Wall" designs.
Headquartered in Mumbai, The Laptop Skin Vault is a brand owned by TwentyNine03 and was officially launched in November 2011 & went live at www.laptopskinvault.com in 2012.
At The Laptop Skin Vault our focus is on:
Delivering the best quality product at the most competitive rates Contributing to the society we exist in
We are a socially responsible brand and part of all our proceeds go to charity. Our charity of choice is Operation Smile India (www.india.operationsmile.org) and we hope to work with them to create more smiles on the faces of children across India.
With the hope of giving personality to each laptop we skin we bring you the highest quality designs & the best quality product so you never have worry about blending into the crowd.
Join us on this exciting journey to make each laptop unique!
--- The Laptop Skin Vault
TheLaptopSkinVault joined Society6 on December 29, 2012.