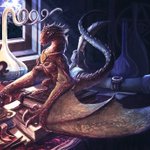 IlDragoMago
From March 2013 opened up a shop on-line "100% TheMagicWarrior Arts", in partnership with the playroom Magic Warrior 100% games, Silea (TV). Now I'm renovating the store and I started changing the name in the Display in "Il DragoMago" or literally in english "The DragonMage". The Store offers T-Shirts, Gadgets, gifts and personalized style Fantasy Ghotic. Inside the shop you will find illustrations of dragons, heroes, monsters, vampires, demons, elves, gods, and more ... all illustrations are of good quality, detailed and original site www.walterart.com Each illustration is officially registered to SILF (Union of Italian Workers of Comics) Website: Www.WalBroArt.com IlDragoMago joined Society6 on March 3, 2013
More
From March 2013 opened up a shop on-line "100% TheMagicWarrior Arts", in partnership with the playroom Magic Warrior 100% games, Silea (TV).
Now I'm renovating the store and I started changing the name in the Display in "Il DragoMago" or literally in english "The DragonMage".
The Store offers T-Shirts, Gadgets, gifts and personalized style Fantasy Ghotic. Inside the shop you will find illustrations of dragons, heroes, monsters, vampires, demons, elves, gods, and more ... all illustrations are of good quality, detailed and original site www.walterart.com
Each illustration is officially registered to SILF (Union of Italian Workers of Comics)
Website: Www.WalBroArt.com
IlDragoMago joined Society6 on March 3, 2013.