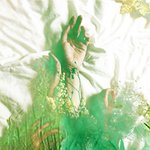 Megean McBride
Megean McBride is a photographer, actress, video artist, and comedian intent on painting a raw avenoir. Her focus is on a philosophical discussion in the expletive functions of trauma on daily life as well as the psychological impact on that trauma. What is the nutrition of our minds when everything we watch invades us and everything we experience becomes us? In her fine artwork she discusses the tension between idealistic morality and prudential reasoning. She uses projection, archival footage, digital romanticism to create postulated articulations on the meaning of love, sex, and humanity in a way that is vulnerable & raw. Her work is intimate. There is no seperation between the viewer and the model and yet her fashion and commercial background highly influence the aesthetic of her fine art work. www.megeanmcbride.com Megean McBride joined Society6 on May 18, 2009
More
Megean McBride is a photographer, actress, video artist, and comedian intent on painting a raw avenoir. Her focus is on a philosophical discussion in the expletive functions of trauma on daily life as well as the psychological impact on that trauma. What is the nutrition of our minds when everything we watch invades us and everything we experience becomes us? In her fine artwork she discusses the tension between idealistic morality and prudential reasoning. She uses projection, archival footage, digital romanticism to create postulated articulations on the meaning of love, sex, and humanity in a way that is vulnerable & raw. Her work is intimate. There is no seperation between the viewer and the model and yet her fashion and commercial background highly influence the aesthetic of her fine art work.
www.megeanmcbride.com
Megean McBride joined Society6 on May 18, 2009.
Megean McBride's Store
16 results
Filter