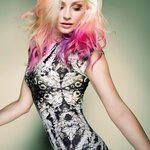 The Model Artist
Gemma Isaac-Henwood is a freelance Designer, Painter , Illustrator and Muralist from Plymouth in Devon. After gaining her A* at GCSE and 4 A/S Levels Gemma proceeded to study a National Diploma in 3D Design followed by an unexpected Degree choice in Animal Science and aimed to diverge from Art by training at the Royal College of Vetinary Surgeons in London. In the early part of 2007, Gemma moved to London and decided to persue a career in the Arts, she was then later spotted by a modeling agency and quickly began to build up a portfolio of a completely different genre. She soon became a published model and artist with a large following. In 2008 she starred in an Independant short film which was screened at the closing night of the International Branchage Film Festival in Jersey, exhibited in the Serpentine Gallery, Hyde Park and was also screened at the Institute of Contemporary Arts in Pall Mall. To date Gemma has work that has travelled to America, Russia and the Neatherlands and 3 IMDB credits. Now settled with her partner back in the Southwest, she has rekindled her first love of creating and producing works of Art. Her Art takes on many influences that are touched by her life experiences and works in a variety of media, styles and projects that include company Logo's, Illustrations, Murals and Portraits.  The Model Artist joined Society6 on November 23, 2013
More
Gemma Isaac-Henwood is a freelance Designer, Painter , Illustrator and Muralist from Plymouth in Devon.
After gaining her A* at GCSE and 4 A/S Levels Gemma proceeded to study a National Diploma in 3D Design followed by an unexpected Degree choice in Animal Science and aimed to diverge from Art by training at the Royal College of Vetinary Surgeons in London.
In the early part of 2007, Gemma moved to London and decided to persue a career in the Arts, she was then later spotted by a modeling agency and quickly began to build up a portfolio of a completely different genre. She soon became a published model and artist with a large following.
In 2008 she starred in an Independant short film which was screened at the closing night of the International Branchage Film Festival in Jersey, exhibited in the Serpentine Gallery, Hyde Park and was also screened at the Institute of Contemporary Arts in Pall Mall.
To date Gemma has work that has travelled to America, Russia and the Neatherlands and 3 IMDB credits.
Now settled with her partner back in the Southwest, she has rekindled her first love of creating and producing works of Art. Her Art takes on many influences that are touched by her life experiences and works in a variety of media, styles and projects that include company Logo's, Illustrations, Murals and Portraits.
The Model Artist joined Society6 on November 23, 2013.
The Model Artist's Store
21 results
Filter