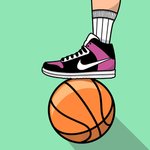 TheMohamz
About TheMohamz (Michael Mohammad) is a designer who resides in the sunny wine country of Temecula, CA. A student of The Art Institute of California- San Diego, Michael spends his days in class learning new skills or working on freelance projects and his nights mixing drinks as a bartender. The services he provides include branding and identity design, logo design, illustrations, posters, icons, packaging design and photo editing. He is happy to explore all other avenues of design as well. Some of Michael's interests when not working include getting his Arnold on at the gym, going to the beach, hiking, wine tasting, traveling, and growing his gnarly beard. ;) Contact You can check out some of his past work on his Instagram: @themohamz. He is always looking to collaborate with other creative intellects and for exciting new projects. To get in contact with TheMohamz to get your project started just send an email to: moham103088@yahoo.com TheMohamz joined Society6 on September 12, 2014
More
About TheMohamz (Michael Mohammad) is a designer who resides in the sunny wine country of Temecula, CA. A student of The Art Institute of California- San Diego, Michael spends his days in class learning new skills or working on freelance projects and his nights mixing drinks as a bartender. The services he provides include branding and identity design, logo design, illustrations, posters, icons, packaging design and photo editing. He is happy to explore all other avenues of design as well.
Some of Michael's interests when not working include getting his Arnold on at the gym, going to the beach, hiking, wine tasting, traveling, and growing his gnarly beard. ;)
Contact You can check out some of his past work on his Instagram: @themohamz. He is always looking to collaborate with other creative intellects and for exciting new projects. To get in contact with TheMohamz to get your project started just send an email to: moham103088@yahoo.com
TheMohamz joined Society6 on September 12, 2014.