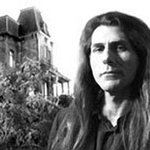 Scott Jackson Monsterman Graphic
Helping people find beauty in the darkness twenty four - seven... Monsterman Graphic is a haunted art studio proudly serving the horror, metal, goth, rock & Halloween industries. We've helped hundreds of clients achieve their vision & obtain a professional image. We treat every project as if it were our own, and it shows. From start to finish we aim to give you excellent service, and provide artwork & design your customers will talk about for years to come.. Scott Lowell Jackson - Graphic Designer/ Illustrator/ Publisher/ Producer- Definitely a renaissance man with a penchant for hard rock music & the macabre. Best known for cover art of the contraversial Rock 'n' Roll Comics series. Scott Jackson's artwork has been featured by Kiss, Megadeth, Pink Floyd, Electric Hellfire Club and many others. Currently producer/owner of The Annual Halloween Art Exhibit, Metal Mergence Chicago, The Monster Store Apparel & Merch. Publisher of Black Cat 13! magazine, Monster Masterpieces: the painted history of the horror film. Find us at www.monstermangraphic.com Friend us at http://www.facebook.com/monstermangraphic Scott Jackson Monsterman Graphic joined Society6 on May 31, 2014
More
Helping people find beauty in the darkness twenty four - seven... Monsterman Graphic is a haunted art studio proudly serving the horror, metal, goth, rock & Halloween industries. We've helped hundreds of clients achieve their vision & obtain a professional image. We treat every project as if it were our own, and it shows. From start to finish we aim to give you excellent service, and provide artwork & design your customers will talk about for years to come..
Scott Lowell Jackson - Graphic Designer/ Illustrator/ Publisher/ Producer- Definitely a renaissance man with a penchant for hard rock music & the macabre. Best known for cover art of the contraversial Rock 'n' Roll Comics series. Scott Jackson's artwork has been featured by Kiss, Megadeth, Pink Floyd, Electric Hellfire Club and many others. Currently producer/owner of The Annual Halloween Art Exhibit, Metal Mergence Chicago, The Monster Store Apparel & Merch. Publisher of Black Cat 13! magazine, Monster Masterpieces: the painted history of the horror film. Find us at www.monstermangraphic.com Friend us at http://www.facebook.com/monstermangraphic
Scott Jackson Monsterman Graphic joined Society6 on May 31, 2014.
Throw Blankets by Scott Jackson Monsterman Graphic
27 results
Filter
Department

Dept

Pillows & Bedding