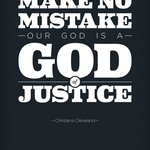 #Design4Justice
#Design4Justice presents art for the movement. Proceeds from sales of these products will be donated to support activists and organizations on the ground in Ferguson, MO and where ever people are demanding Black Lives Matter. One project we support is the work of Campaign Zero Visit: http://www.joincampaignzero.org/ #Design4Justice is a project of Theology Of Ferguson Check out more content at medium.com/theology-of-ferguson #Design4Justice joined Society6 on October 21, 2014
More
#Design4Justice presents art for the movement.
Proceeds from sales of these products will be donated to support activists and organizations on the ground in Ferguson, MO and where ever people are demanding Black Lives Matter.
One project we support is the work of Campaign Zero Visit: http://www.joincampaignzero.org/
#Design4Justice is a project of Theology Of Ferguson Check out more content at medium.com/theology-of-ferguson
#Design4Justice joined Society6 on October 21, 2014.
#Design4Justice's Store
12 results
Filter