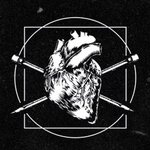 THEoREticAL pART
Theoretical part is the creative union of two illustrators, Boris and Daria Sokolovsky, based in Rostov-on-Don. Russia. «Our inspiration is in the cultural heritage of the past epochs, which come to the present times through the portals of antique shops, libraries, ruins and museums. Our aesthetics woven of images, symbols and arcane knowledge, which are stretched like a thin threads from the depths of hoary antiquity. By passing the sands of time through the millstones of creative mill and refracting the reality by the prism of imagination, we are building the tiny worlds of dust and light and fix it on paper». THEoREticAL pART joined Society6 on February 3, 2013
More
Theoretical part is the creative union of two illustrators, Boris and Daria Sokolovsky, based in Rostov-on-Don. Russia.
«Our inspiration is in the cultural heritage of the past epochs, which come to the present times through the portals of antique shops, libraries, ruins and museums. Our aesthetics woven of images, symbols and arcane knowledge, which are stretched like a thin threads from the depths of hoary antiquity. By passing the sands of time through the millstones of creative mill and refracting the reality by the prism of imagination, we are building the tiny worlds of dust and light and fix it on paper».
THEoREticAL pART joined Society6 on February 3, 2013.