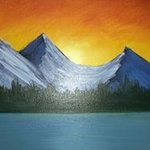 The Painted Kat
Kat Sanders has a passion for transforming her inner vision into decorative art. On The Art of Embroidery site, you will find unique, one-of-a-kind paintings, embroidery designs and jewelry. This site has been a long journey from cross-stitch as a child to painting, sewing and making jewelry as an adult. Kat's inner vision has changed over the years but her dedication to arts and crafts have not. Paintings Kat's paintings show her vibrant use of colors and shapes and designs. Her landscapes and abstracts show her unique style and each one showcases her passion. Major Themes Kat has a definitive preference for a compelling and fantastical themes. Her preferred themes are Steampunk, Goth, Victorian, Whimsical and Fantasy. Kat is delighted to share her art with you. You can find her on her website, The Painted Kat: http://paintedkat.com The Painted Kat joined Society6 on January 13, 2014
More
Kat Sanders has a passion for transforming her inner vision into decorative art. On The Art of Embroidery site, you will find unique, one-of-a-kind paintings, embroidery designs and jewelry.
This site has been a long journey from cross-stitch as a child to painting, sewing and making jewelry as an adult. Kat's inner vision has changed over the years but her dedication to arts and crafts have not.
Paintings
Kat's paintings show her vibrant use of colors and shapes and designs. Her landscapes and abstracts show her unique style and each one showcases her passion.
Major Themes
Kat has a definitive preference for a compelling and fantastical themes. Her preferred themes are Steampunk, Goth, Victorian, Whimsical and Fantasy.
Kat is delighted to share her art with you.
You can find her on her website, The Painted Kat: http://paintedkat.com
The Painted Kat joined Society6 on January 13, 2014.