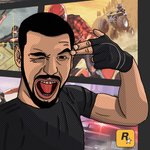 shaungmbaker
Born in London and raised in the Highlands of Scotland, the youngest of four brothers and the grandson of the actor/film producer Sir Stanley Baker (Zulu, The Italian Job), Shaun grew up immersed in the arts. With parents involved in the music industry and a family littered with actors, musicians, writers, designers and artists of many mediums, it was almost inevitable that Shaun would follow into a life of art in one form or another. Although he was kicked out of his high school art class and told by his teacher that he was not a creative person and should focus his time & efforts elsewhere, Shaun studied acting & performance in Edinburgh and pursued his desire to create through acting, dance and writing. In 2011 while having a sabbatical in New Zealand (disguised as 'soul searching') Shaun discovered the wonderful world of paper cutting through artists Rob Ryan and Claire Brewster. With a lot of time on his hands and a head full of inspiration, Shaun picked up a sketch pad, a $1 scalpel and a family pack of band aids and started cutting paper. Shaun quickly discovered his passion for art. Whereas acting and performing required an audience, a director and a script,creating artwork simply required paper, a pencil, a scalpel and occasionally having to explain to airport security why you have a surgical knife in your hand luggage. After returning back to his family home in Drumnadrochit on the shores of Loch Ness, Shaun continued to explore the world of paper cutting and started to develop his own style and voice, and also expand into illustration and graphic design. In 2012 he moved to London for a year to work for his uncle's design company, Fantastic UK Ltd. Having access to an abundance of art materials, a studio and a mentor, Shaun's creativity and skills were nurtured and he was shaped from a rookie with fingers covered in plasters, to a true artist. Shaun, now 25, lives in beautiful Edinburgh designing and cutting paper full time. Originally strictly selling paper cut movie quotes (hand cut at the kitchen table) Shaun's business has grown and flourished over the last year. He has now had work featured in The X Factor 2014, the first Etsy UK TV advert, and has a wide array of original paper cut designs, as well as a range of posters, greetings cards and cushions. He comes up with new designs every week, and has many plans, big and small, for the future! Follow him on Instagram: @shaungmbaker shaungmbaker joined Society6 on November 14, 2014
More
Born in London and raised in the Highlands of Scotland, the youngest of four brothers and the grandson of the actor/film producer Sir Stanley Baker (Zulu, The Italian Job), Shaun grew up immersed in the arts. With parents involved in the music industry and a family littered with actors, musicians, writers, designers and artists of many mediums, it was almost inevitable that Shaun would follow into a life of art in one form or another. Although he was kicked out of his high school art class and told by his teacher that he was not a creative person and should focus his time & efforts elsewhere, Shaun studied acting & performance in Edinburgh and pursued his desire to create through acting, dance and writing.
In 2011 while having a sabbatical in New Zealand (disguised as 'soul searching') Shaun discovered the wonderful world of paper cutting through artists Rob Ryan and Claire Brewster. With a lot of time on his hands and a head full of inspiration, Shaun picked up a sketch pad, a $1 scalpel and a family pack of band aids and started cutting paper. Shaun quickly discovered his passion for art. Whereas acting and performing required an audience, a director and a script,creating artwork simply required paper, a pencil, a scalpel and occasionally having to explain to airport security why you have a surgical knife in your hand luggage.
After returning back to his family home in Drumnadrochit on the shores of Loch Ness, Shaun continued to explore the world of paper cutting and started to develop his own style and voice, and also expand into illustration and graphic design. In 2012 he moved to London for a year to work for his uncle's design company, Fantastic UK Ltd. Having access to an abundance of art materials, a studio and a mentor, Shaun's creativity and skills were nurtured and he was shaped from a rookie with fingers covered in plasters, to a true artist.
Shaun, now 25, lives in beautiful Edinburgh designing and cutting paper full time. Originally strictly selling paper cut movie quotes (hand cut at the kitchen table) Shaun's business has grown and flourished over the last year. He has now had work featured in The X Factor 2014, the first Etsy UK TV advert, and has a wide array of original paper cut designs, as well as a range of posters, greetings cards and cushions. He comes up with new designs every week, and has many plans, big and small, for the future!
Follow him on Instagram:
@shaungmbaker
shaungmbaker joined Society6 on November 14, 2014.
shaungmbaker's Store
42 results
Filter