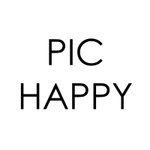 thepichappystore
Pic Happy is an online boutique specializing in elegant, modern and whimsical designs. We create lovely lifestyle products to help you celebrate and go through life's events in great style. Thanks for shopping with Pic Happy! Tag your photos #thepichappystore! Alternatively, pay us a visit here on instagram - @thepichappy - or our website https://chaisweetchai.com/ thepichappystore joined Society6 on April 28, 2018
More
Pic Happy is an online boutique specializing in elegant, modern and whimsical designs. We create lovely lifestyle products to help you celebrate and go through life's events in great style.
Thanks for shopping with Pic Happy!
Tag your photos #thepichappystore!
Alternatively, pay us a visit here on instagram - @thepichappy - or our website https://chaisweetchai.com/
thepichappystore joined Society6 on April 28, 2018.