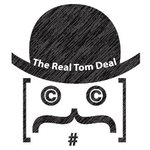 Tom Deal
High School Art Teacher & Freelance Illustrator/Graphic Designer. Likes: coffee, humor, cartoons, movies, snacks, wrestling, video games, comics, art, hats, music, collections, & Kempo. Clients: Sitel, The Rehab Documentation Company, The Robertson County Players, Disney, PrideSports, Softspikes, Pride Golf Tee, Black Widow, Dick's Sporting Goods, Academy Sports & Outdoors, Sports Authority, Golf-Smith, Golf USA, Golf Galaxy, Walmart, Target, Walgreens, Adidas, Puma, Nike, Gray-Nicholls, Kmart, Dollar General, Dollar Tree, Family Dollar, & Michaels Website: http://therealtomdeal.com Blog: http://therealtomdeal.com/blog T-Shirts: http://www.redbubble.com/people/therealtomdeal Facebook: http://www.facebook.com/therealtomdeal Twitter: http://twitter.com/therealtomdeal Tumblr: http://doodledojo.com/ Tom Deal joined Society6 on December 29, 2011
More
High School Art Teacher & Freelance Illustrator/Graphic Designer.
Likes: coffee, humor, cartoons, movies, snacks, wrestling, video games, comics, art, hats, music, collections, & Kempo.
Clients: Sitel, The Rehab Documentation Company, The Robertson County Players, Disney, PrideSports, Softspikes, Pride Golf Tee, Black Widow, Dick's Sporting Goods, Academy Sports & Outdoors, Sports Authority, Golf-Smith, Golf USA, Golf Galaxy, Walmart, Target, Walgreens, Adidas, Puma, Nike, Gray-Nicholls, Kmart, Dollar General, Dollar Tree, Family Dollar, & Michaels
Website: http://therealtomdeal.com
Blog: http://therealtomdeal.com/blog
T-Shirts: http://www.redbubble.com/people/therealtomdeal
Facebook: http://www.facebook.com/therealtomdeal
Twitter: http://twitter.com/therealtomdeal
Tumblr: http://doodledojo.com/
Tom Deal joined Society6 on December 29, 2011.
Hoodies by Tom Deal
5 results
Filter